According to Green Forest Coach Greg Tibbit a scrimmage game between7th and 8th grade Tiger football teams will play Thursday September 16 th at 5:30pm.Admission will be $3 to enter and Tigers will be selling homemade tacos and other food and drinks. All proceeds from the gate and food sales will go to help the 2021 3A State soccer Team pay for their championship rings!Please come out and support the Tigers!! The Berryville 7 th grade and junior high
football teams will host Greenland tonight at Ronnie Clark Field beginning at 5:30. Volleyball schedules on Thursday include Green Forest at Eureka Springs, and Berryville will travel to Huntsville. And finally, the Berryville girls and boys golf teams will travel to the Highlands golf course at Bella Vista for an eighteen hole match beginning at 1PM today.
The Berryville Lady Bobcat volleyball team lost to conference Shiloh Christian on Monday night in
straight sets 3-0, 14-25, 25-27, and 15-25. The Berryville junior varsity lost 25-16, 22-25, and 12-15, and the junior high also lost in 2-0 sets. The Lady Bobcats will host conference Farmington today Tuesday September 14 th . Other volleyball games on the schedule today include Green Forest hosting Paris, and Eureka Springs will travel to Mulberry. The Berryville boys golf team will host a 18 hole match against 4A competitors today at the Fayetteville Country Club beginning at 9am.
The Eureka Springs Lady Highlander volleyball team lost to Elkins on Monday, but reversed their course
last night against Mulberry. Eureka Springs defeated Mulberry in straight sets, 3-0 and improve to a 3-2
conference record; they will play Green Forest on Thursday. The Berryville Lady Bobcat volleyball team
lost their consecutive conference in a row Tuesday night as Farmington defeated Berryville 3-0 sets. The
Lady Bobcats fall to 2-5 conference record and will play Huntsville on Thursday. The Eureka Springs
golfers hosted teams at the Holiday Island Golf Course on Tuesday afternoon and the Highlanders
posted a 2 nd team score of 169 behind first place Flippin at 149; Jasper finished in 3 rd place. Highlander boys included; Matthew Lester 52, Eason Nystrom 58, Kegley Ertel 59, and Michael Lester 60. Lady Highlander golfers included; Katie Farrar 56, good enough for medalist and Aspen Pena posted a 60.
And finally, Berryville Bobcat golfers finished 5 th out of 8 teams at Fayetteville Golf Course with a team
score of 267. Farmington was 1 st with a score of 233, Gravette 257, Harrison 262, and Shiloh Christian
265. Coach Brent Compton stated the Bobcats are playing good team golf as they are set to play the
district tournament next week at September 22nd.
The 4A district golf tournament is set at the Highland golf course in Bella Vista September 22 nd and the
Berryville girls and boys golf teams played a preview Thursday against many of their competitors. Shiloh
Christian boys placed first with a team score of 241, followed by Gravette 250, Farmington 264,
Berryville 280, Prairie Grove 304, and Huntsville 305. Bobcat golfers included; Nate Allen 84, Jack
Dignan 97, Ashton Blok 99, and DJ Colbert 101. Farmington girls placed first with a team score of 296,
followed by Shiloh Christian 299, Berryville 339, and Prairie Grove 342. Lady Bobcat golfers included;
Emma Hall 103, Alyssa Lee 106, Sadie Sharp 130, and Jaiden Hood 134. Carroll County Broadcasting is
set for Friday night high school football tonight, Andy Dean will call the Green Forest Tigers against the
Cedarville Pirates on Bill Gotto Field on 107.1FM KTHS. And Dolby Williams will call the Huntsville Eagles football team as they host the Lincoln Wolves on 100.9FM KESA. Games will kickoff at 7PM on Carroll County Broadcasting, good luck to our Tigers and Eagles!
The Green Forest Tiger football team played their first game of the season last Friday against Cedarville
and the offense was a little rusty, but the defense was outstanding. Green Forest came up short to the
Pirates in the final 16-0 as the offense stalled, but the defense was a bright spot for Green Forest Coach
Greg Tibbit. Senior Bryan Soto had 12.5 tackles and one interception, and also senior's Fredy Juarez and
Navor Perez each had an interception as well. The Tigers are now 0-1 overall and will play a make up
against West Fork this Friday. The Huntsville Eagle football team posted their first game of the season
Friday against Lincoln 48-0. Junior Brandon Rushano had a pick six early in the first quarter, senior
Kolton Reynolds had 2 interceptions, and senior Austin Collins had one as well. Huntsville held the
Wolves with just over 100 yards of total offense. The Eagles will have a bye this week. Other high
school football Friday games include; Harrison over Siloam Springs 35-31 and Prairie Grove defeated Pea
Ridge 41-28. Today's Monday September 13 th schedule includes volleyball as Eureka Springs will host Elkins, Berryville will host Shiloh Christian, and Huntsville will travel to Siloam Springs.
Berryville Bobcats

Berryville Sports Air Live on KTHS 107.1 FM "We Love Our Country"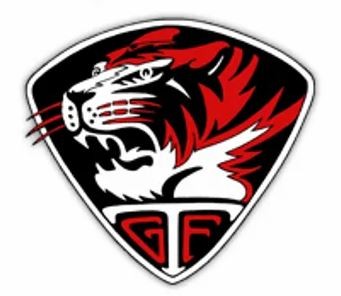 Green Forest Tigers

Green Forest Sports Air Live on "Your Spanish Radio" 96.9 FM/102.3 FM/1480 AM
Huntsville Eagles

Huntsville Sports Air Live on KESA Eureka Springs 100.9 FM