Community Bulletin Board: December
Carroll County Broadcasting's Community Board is where we share local events, announcements, closures and happenings! You can send in Community Announcements to us by:
870-423-2147
Carroll County Broadcasting, Inc. P.O. Box 191
Berryville, AR 72616
Office Hours: Mon–Fri
8:00 a.m. — 4:00p.m.
Carroll County Broadcasting, Inc. 1 Radio Dr
Berryville, AR 72616 Office Hours:
Mon–Fri
8:00 a.m. — 4:00p.m.
Birthdays & Anniversaries
Friday, December 2nd
Nancy Smith – Happy Birthday -
Deloris Fancher, Berryville - Happy Birthday -
Saturday, December 3
Courtney Smith – Happy Birthday -
Sunday, December 4th
Monday, December 5th
Call 870-423-2147 or email radio.kths@gmail.com to get your Birthdays and Anniversaries added to be read on Tradio at 10:30 a.m. and on air!
Brashears is excited to sponsor the Crescent Hotel's Christmas Tree Forest and provided the 30 trees that will be decorated by local charities. All money raised goes directly to those charities. Saturday Dec. 3rd @ 6pm is the "Lighting of the Christmas Tree Forest". The Christmas Forest will be at the Crescent Hotel through January 1st so stop by and see it!
Each charity decorates its own tree and the public that visits the tree forest the entire month of December votes for their favorite tree using a dollar. Events kick off with the lighting of the Christmas Forest on Saturday, December 3rd at 6 p.m. More than 30 trees will adorn the holiday focal point of the hotel's nearly 15 acres, The East Lawn. Each tree will be uniquely decorated since each tree represents a different local and area charity.
The official tree lighting ceremony has been rescheduled for December 3rd. The festivities will begin at 4:00, lighting the tree at 5:15 to allow enough time for the Christmas parade lineup!
From now until December 20th, Montgomery Whiteley Realty will be collecting blankets, stuffed animals, and toys to donate to The Call for our area foster children! Drop items off at their offices located at 605 Eureka Ave in Berryville!
The Annual Christmas on the Kingston Square will be December 4th at 6:00 pm followed by food and fellowship at the Fire Department. Hope to see you all there!
After a two year pandemic pause, with joy the Ozark Chorale are back with a truly beautiful holiday concert - Sounds of the Season! Enjoy a range of music from classical to family favorites performed by more singers than ever and a talented new Artistic Director, Jess Wade. Start your Holiday Season with the Ozark Chorale Sounds of the Season concert on Sunday, December 11th at The Aud in Eureka Springs starting at 7 p.m. Tickets are $10 at the door, and students are free!
On December 10th, Chrstimas in Kingston Craft Market will be held at the American Legion, 32807 AR 74 Kingston, AR. Lots of homemade gifts and holiday shopping.
Cowboy Christmas Ball will be Friday, December 16th at 6 p.m. located 3/4 mile north on HWY 103 in Green Forest.
Turkey, ham, with all the fixings and dancing. It's free and all are welcome!
A 12-week Reboot Recovery Course begins Thursday night, November 29th at 6pm at Living Faith Church in Berryville. Child care and a meal is provided. Reboot Recovery helps people overcome trauma. The course is open to anyone looking to move forward from trauma and tragedy, particularly veterans and first responders, into a better future. The course is for the whole family or just individuals. More information is available at 870-480-205 and online at
rebootrecovery.com
December School Lunch Menus Berryville, Green Forest, and Eureka Springs brought to you by Hart's Family Center in Eureka Springs!
Carroll County Retired Teachers Christmas party will be December 0th at Western Sizzlin' in Harrison at 12:30 p.m. Bring a gift for $5 - $10 for male or female to exchange. Wear your Christmas sweater and come for lunch!
JOB FAIR DECEMBER 16, 2022 from 2:30 - 6:00 p.m.
Community Room at Carroll Electric Cooperative Corp.
Highway 62 Spur, Berryville, AR 72616
For More Information: 870-243-0800
Christmas Tree Forest at the Crescent Hotel —Lighting at 6pm on the 3rd
December 4 at 10:00 am – 12:00 pm
Santa Brunch at the 1886 Crescent Hotel & Spa
December 10 at 10:00 am
Grinch Breakfast at the 1886 Crescent Hotel & Spa
December 18 at 3:00 pm – 5:00 pm
Teddy Bear Tea at the 1886 Crescent Hotel & Spa
More info at
www.crescent-hotel.com/christmas
The Basin Park Hotel sponsor of these events Downtown Events:
Santa in the Park on Saturdays from 3pm-5pm 3rd, 10th and 17th
Thursdays: December 1st, 8th, 15th and 22nd at 5:00 pm
Christmas on Center (Street) Music 5pm-8pm
December 10 at 5:00 pm – 7:00 pm Living Windows
December 17 - Ugly Sweater Contest Downtown
The shops are all participating in a window decorating contest now through
All details at
www.christmasineureka.com
The next scheduled meeting for the Eastern Carroll County Ambulance District will be held at the Carroll County Courthouse at 7 PM on December 5, 2022. This will be a regular meeting with signing of the ambulance contract. As always the public is invited and welcome to attend.
You are invited to the Christmas Maker's Market at Main Stage Creative Center 67 North Main Street Eureka Springs
December 2nd 2pm to 6pm
December 3rd 11am to 4pM
Reception Friday before the Christmas parade. Come meet the artists and have a cup of cider! More info at Main Stage on Facebook
Tune into KESA 100.9FM and KTHS 107.1FM on Thursdays at 2 PM for Big Cat Chat with Turpentine Creek Wildlife Refuge! Find out more about Turpentine Creek Wildlife Refuge at

www.turpentinecreek.org

and on their

Facebook page

! Each week a new episode will air, stream online, and on our apps!
The Green Forest Chamber of Commerce invite you and your family to Breakfast with Santa! Saturday, December 10, from 8:30 a.m. until 11 a.m. in the Green Forest Schools' Alumni Center
Free Christmas Small Biz Showcase at Green Forest First Assembly on Saturday, December 3rd, from 9 am to 3:00 pm. This event will include small businesses, crafters, direct sales reps, and baked goods. Booth spaces are available at no charge. Join us for shopping after the Christmas parade!
The Kingston American Legion, The Kingston Volunteer Fire Department and the Madison County VFW is having their Annual Community Christmas Dinner on Friday the 9 th of December. Turkey and Ham will be provided and dinner will begin promptly at 6pm. Please bring a side dish, and your own dinnerware. Santa usually drops in after dinner and spreads joy to all of the kids, young and old!
The next Oak Grove Town Council Meeting will be held on Tuesday, December 6, 2022 at 7pm in the Oak Grove Town Hall.
Kidtastic Tuesdays Free of charge, 9:00am-11:00am Parents are welcome to bring their children ages 6 and under for open gym time with games, and entertainment geared towards the littlest members and non-members of the community.
Mama & Cub Music Classes with Jordana Lipsitz. 10:30-11:30 am Fridays and Saturdays. Jordana leads parents and children through an interactive music class that is loads of fun. Members and Non-members are welcome.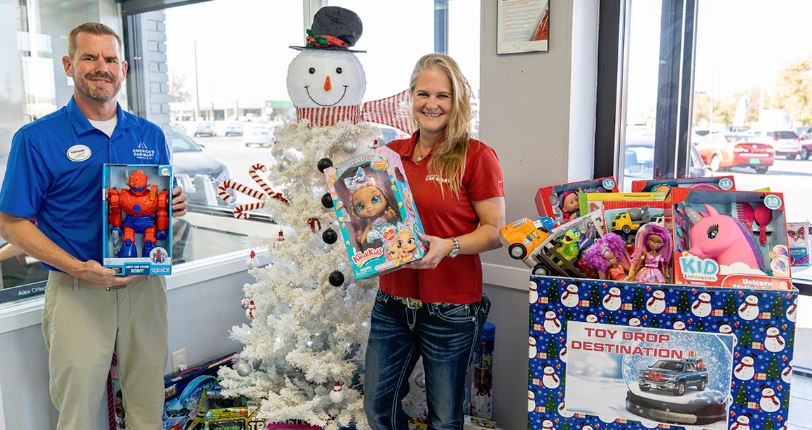 America's Car-Mart is all about giving back and supporting the communities they serve. Every Car-Mart is currently serving as a Toy Drop to make sure children in local hospitals receive holiday cheer this season. Everyone is invited to bring in a new, unwrapped toy – no purchase necessary. They're open 9 a.m. to 6 p.m., Monday through Saturday! Visit
car-mart.com
for more information!
COMMUNITY ANNOUNCEMENT SPONSORS