Berryville Bobcats

Berryville Sports Aired Live on KTHS 107.1FM /1480AM "We Love Our Country" KTHS 107.1 FM /1480 AM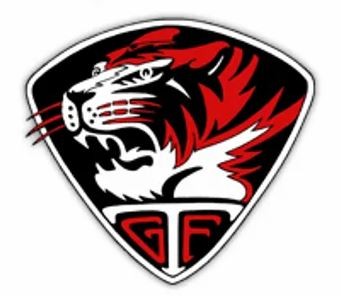 Green Forest Tigers

Green Forest Sports Aired Live on "The Legend" 102.3 FM/96.9 FM
"The Legend"
96.9 FM/102.3 FM
The Green Forest senior high boys soccer team continues to dominant opponents as they defeatedArkansas Arts Academy 8-0 last night. Emerson Ortiz and Lah Kpro led the Tiger scoring withtwo goals each. The Tigers are now 9-0-1 for the season, both girls and boys Tiger soccerteams will travel to Harrison tonight for a non conference game. Berryville baseball cameup short to Shiloh Christian 17-7 last night. The Bobcat JV baseball team will host Bergmantonight as the varsity has the night off. The Berryville Lady Bobcat softball team lost toClinton last night 12-0, Berryville drops to 3-6 overall. And today's sports schedule alsoincludes the Berryville boys soccer team playing a conference game at Subiaco Academytonight.
A busy high school spring sports schedule is in order today; Green Forest Tiger baseball team will hostOmaha, Berryville baseball will travel to Springdale for a game against Shiloh Christian, Berryville softballwill travel to Clinton, Berryville Lady Bobcat soccer will play Shiloh Christian, and area teams willcompete today in the Anstaff Relays in Green Forest field events will begin at 3:30 on Bill Gotto Field.And finally, Green Forest basketball Coach Shane Compton encourages Tiger fans to please considersponsoring your favorite Tiger basketball player for this Saturdays Free-Throw-A-Thon.Each athlete will collect sponsorships for each free throw made out of 100. This money willgo to the Men's Tiger Basketball Program and be used to help pay for practice gear,equipment, and camps. If you would like to sponsor a player you can contact CoachCompton via Facebook Messenger or at scompton@gf.k12.ar.us.
The Berryville boys and girls soccer teams picked up conference wins last night against Prairie Grove. The Lady Bobcats defeated the Tigers 3-0 and the Bobcats shut out the Tigers as well with a 4-0 victory. Berryville will continue conference play as they travel to Springdale on Thursday for a matchup withShiloh Christian. The Berryville Lady Bobcat softball team lost a nail bitter to Valley Springs 4-3 lastnight, the Lady Bobcats will travel to Clinton on Thursday. And Lydia Russell had another outstandingjunior high track performance yesterday in the Anstaff Bank junior high relays. Russell finished secondin the 100 meter dash, the 200 meter dash, and the 100 meter hurdles. The senior high Anstaff BankRelays are scheduled for Thursday in Green Forest.Berryville Head Football Coach Search Comes to an End with HireThe Berryville School Board has hired a new head football coach; Bryan Hutson will take the helm for the Bobcats according to the minutes of a special school board meeting on Monday. Hutson comes toBerryville from Elkins as he led the Elks for three seasons including last year's team that went 8-3 with asecond round appearance in the 4A state playoffs. Coach Hutson is a proven winner running the spreadoffense at such schools as North Little Rock, Little Rock McClelland, and nine seasons at Paris Arkansas.School officials told KTHS that this is a home run hire and everyone is excited for the school and thecommunity. It has not been announced when Coach Bryan Hutson will arrive on the Berryville campusbut it is anticipated that he will lead upcoming spring football.
The Berryville Bobcat baseball team picked up their first conference win of the season over Gravette lastnight at the Bobcat Sports Complex. The Bobcats narrowly defeated the Lions 3-2 and improve to 5-8overall and 1-5 in conference play, Shiloh Christian is up next on Thursday. The Berryville Lady Bobcatsoftball team fell to Gravette 14-3 last night. Berryville drops to 3-4 overall and 1-3 in conference play.The Lady Bobcats will host Valley Springs today. Green Forest baseball fell to Clinton 11-1 last night andwill host Omaha on Thursday. Today's sports schedule includes; Berryville girls and boys soccer teamshosting Prairie Grove and Green Forest girls and boys soccer teams will travel to Centerton to play LifeWay Christian School in a non conference matchup.
The Berryville Bobcat Baseball team came up with one win and two losses over the weekend in theHarrison baseball tournament. The Bobcats defeated Valley Springs and lost to Clinton and Lamar andhold a 4-8 overall record. Berryville returns to 1-4A conference play tonight against Gravette as bothBerryville baseball and softball teams will host the Gravette Lions at the Bobcat Sports Complex. TheLady Bobcat softball team looks to move up in the standings as they hold a 1-2 conference record and are 3-3 overall. Today's high school sports schedule also includes the Green Forest Tiger baseball team traveling to Clinton for a non conference matchup.